Applying Lean-Agile Practices in the Public Sector with SAFe
More government agencies are adopting Lean-Agile practices to generate better results for stakeholders, including government and military personnel, contractors, and civilians. But how do you overcome legacy governance, contracting, and organizational barriers? How do you adapt private sector success patterns to the government context to deliver value faster?
In the SAFe® for Government course, you'll learn how to apply Lean-Agile and SAFe practices in a government organization so you can deliver projects with speed and quality. Improve collaboration with teams and stakeholders, mitigate risk, and efficiently use taxpayer money.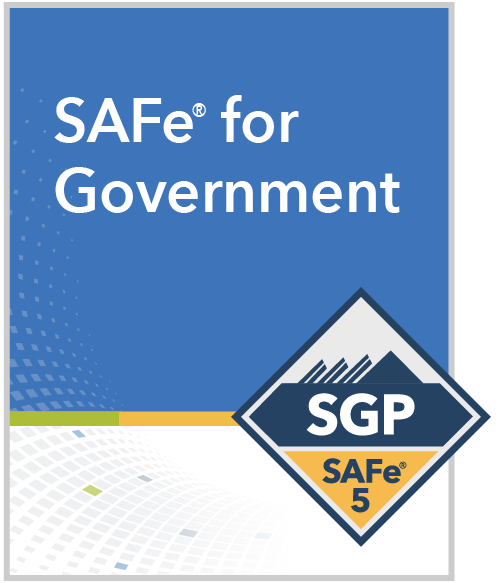 Attendees learn:
How to apply Lean, Agile, and DevOps principles and practices in traditional government organizations and cultures
How to adapt technology strategy, budgeting and forecasting, acquisition, compliance, and governance practices to flow-based practices using emerging government guidelines
How to organize government programs into Agile Release Trains (ARTs) and execute in program increments (PIs), even in remote environments with distributed teams
How to build an action plan to begin or accelerate a SAFe implementation in your program or agency
SAFe® for Government answers the questions:
What are specific leadership behaviors that can drive successful organizational change in government?
How do I build high-performing, multi-vendor teams and ARTs?
How do I manage contracts and acquisition/procurement using Agile principles and practices?
How can I coordinate Agile at scale in a government and multi-vendor environment?
What's included:
Course workbook and SAFe Studio™ access to help prepare you to take the certification exam, claim their digital badge, and tools to get started in your SAFe role
One-year membership to SAFe Studio with your first class attendance

Platform access to e-learning modules and curated members-only content to support your SAFe transformation
Member discussion forms to engage in ongoing conversations on the SAFe framework or how to better perform as part of an Agile Team
Curated content-playlists based on your interests and roles, including templated resources and facilitation guides to get you started
Access to content, tools, and resources you need to practice SAFe every day
SAFe for Government certification exam